CNC Milling machine FOR WORKSHOP PROfessionals
STEPCRAFT M-SERIES


You can't get more freedom! The STEPCRAFT M-Series is truly the most versatile CNC system in the world. With Freestyle Milling™ and two different machine table heights, the CNC system offers features never seen before. You can easily mill into large sheet materials, wooden tables, or even directly on to floors! The M-Series CNC router systems are designed to run 24/7 in production environments, workshops, labs, schools, and more. STEPCRAFT is known for its multi-function capabilities and the M-Series is completely compatible with all STEPCRAFT attachments to expand your capabilities from milling to 3D printing, lasering, plotting, cutting and much more.
SHOP M-SERIES NOW
CNC Milling Machine for large and small CNC projects
The perfect size for every CNC project! The M-Series CNC systems offer lots of space to make just about any project that you dream up no matter the size. If you can not fit the material on the CNC, then you can put the CNC on the material. The M-Series is offered in 3 different size models: M.500, M.700, and M.1000 allowing you to choose the perfect size for your needs. The M-Series CNC systems come completely assembled and ready-to-run with the option to purchase in kit-form with a slightly lower cost.

Unique in the world - Freestyle Milling TM
Milling, laser engraving, cutting, or carving — where and how you want! The STEPCRAFT M-Series is the only CNC machine in the world that enables real Freestyle Milling™! Place the machine exactly where it is needed. The optional powerful Vacuum Rails will attach the CNC router firmly with powerful suction the project's surface. Thanks to the completely removable machine table, you can engrave logos , patterns, and designs into floors, furniture, sheet material, or permanently installed workpiece materials. The numerous possible mobile applications make the STEPCRAFT M-Series the most versatile CNC machine in the world - protected as a registered utility model by the Germany Patent and Trademark office.

Finally, a CNC system that has no limitation to the project size. The STEPCRAFT M-Series allows you to save the money for a larger format CNC mill as well as space in your shop. You can simply remove the machine bed and mill directly onto the material beneath the machine.

Bring the machine to your project! The M-Series CNC systems allow you to mill in existing items like furniture, cabinets, or floors. Items that would be out of reach for a typical CNC can be successfully customized thanks to Freestyle Milling ™.


Powerfully hold in place! The optional vacuum rails can be easily attached to your M-Series CNC and using the suction from a common shop vac, the resulting vacuum pressure will securely hold the machine in position while milling.

Innovation on every Level
The STEPCRAFT M-Series offers many new possibilities for CNC machining. There are two different table heights that allow you an additional 2.75" of Z height - more than any other machine in its class. A 90-degree Vertical Clamping Fixture can be added to allow vertical clamping and machining of workpieces - perfect for dovetail and other cabinet joints. Tables are available in MDF with aluminum t-tracks or all-aluminum to give you the most flexibility of materials that you can process.
Two Machine Table Heights
The perfect amount of Z travel for every workpiece
The linear Y-axis frame profiles have two different table mounting positions.
Perfectly suited for CNC processing of taller workpieces
Quick and easy installation and removal thanks to EasyFix locking nuts
Allows for permanent installation of CNC accessories (4th Axis)
Machine Table with T-Slots
Quick and easy clamping of CNC workpieces
MDF machine table with aluminum T-slots
Easy to reconfigure the machine table elements
Can be used on both machine table elements
Aluminum T-slot table optionally available
90° Vertical Clamping Fixture
Quickly add to the machine when needed
Five T-slots for flexible clamping
90° Vertical Clamping Fixture is ideal for vertical milling, such as with dovetails
Made from aluminum for maximum rigidity
Highly engineered CNC Technology
Well-thought-out CNC technology is required for high-precision results. The STECPRAFT M-Series works precisely and reliably thanks to the innovative extruded frame components and the Bosch Rexroth precision linear guides. The small Flexi Guides™ ensure neat and clean cable routing while the optional Semi-Closed Loop System™ offers additional protection of your workpieces.
---
Very Rigid X-profile
The high-strength X-profile of the STEPCRAFT M-Series sets new standards with regards to the stability and design of CNC machines. The innovative construction design ensures high force absorption and the even distribution of forces within the axis. An extremely high torsional stiffness is achieved this way. The engineered extruded aluminum construction components of the CNC axis, frame, and gantry components offer a highly stable profile design hat would not be possible with steel. An innovation from STEPCRAFT, which is protected as a registered utility model by the German Patent and Trademark Office.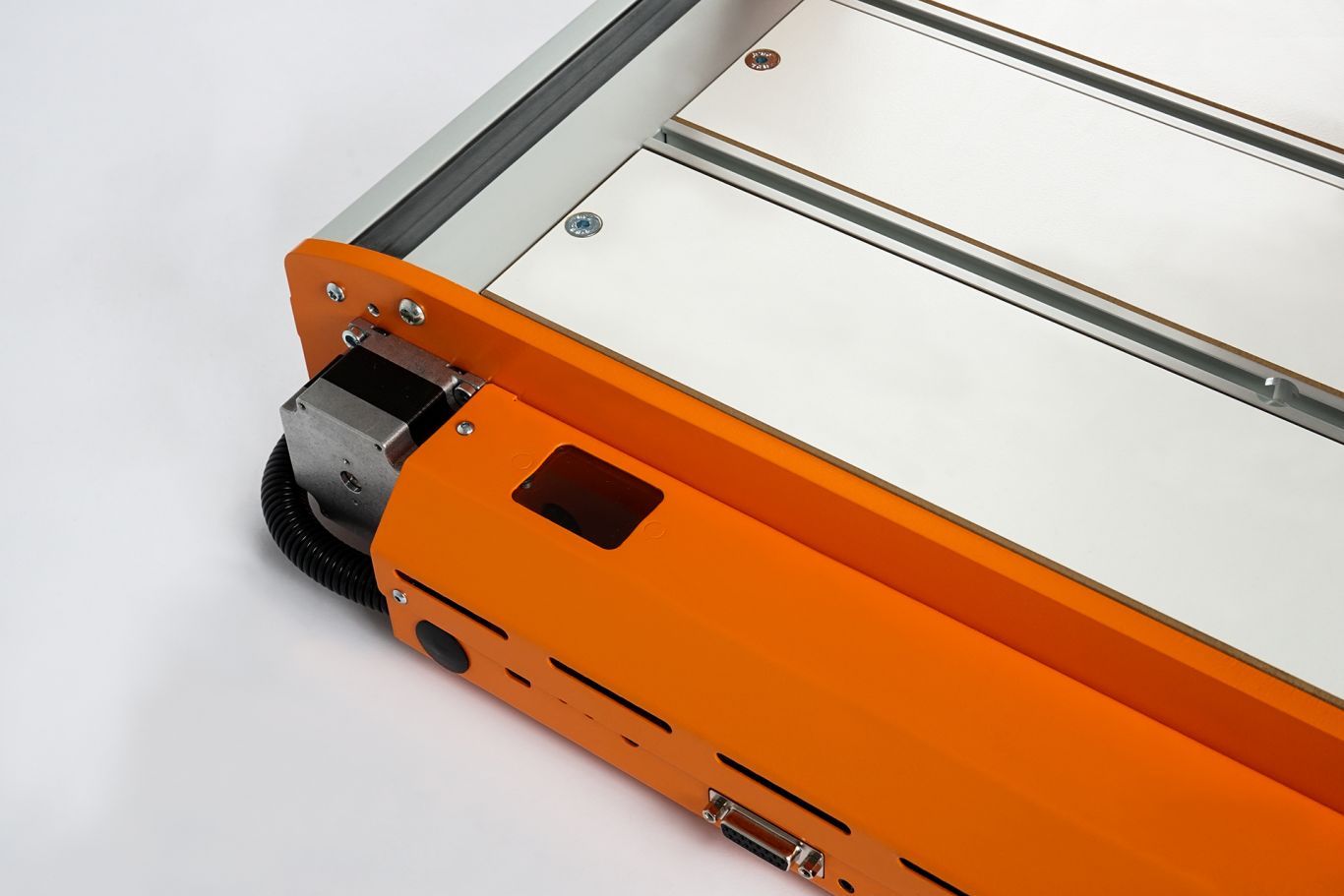 SEMI CLOSED-LOOP SYSTEM™

With the STEPCRAFT M-Series, the CNC's gantry automatically realigns itself after each reference run. With the optional
Semi-Closed Loop System
™ you can expand your CNC machine with step monitoring on all axes. If the system detects a deviation from predefined steps, such as in the event of a collision or incorrect settings, the emergency stop is triggered automatically and your workpiece is protected.
Ball Bearing Guide
All axes of the M-Series CNC systems are guided with high-precision. Bosch Rexroth recirculating ball bearing linear rails made of hardened steel provides a high load-bearing capacity, extremely reliable performance with no wear. The linear guides are protected from dust and debris with special seal integrated into the bearing carriage.

Flexi Guides TM
No cable clutter! Each machine of the STEPCRAFT M-Series comes with three Flexi Guides™. The white plastic holders serve to securely guide cables and tubes of tools and accessories.
The Flexi Guides™ can be easily positioned and fastened in the T-slot of the X-axis.
Powerful Drive


The STEPCRAFT M-Series operates with maximum precision and accuracy and runs quietly and vibration-free. You can choose between the standard igus® dryspin threaded lead screw or precision HIWIN® ball screws. The powerful 23 motors drive the machine powerfully through a wide variety of materials.
---
igus® dryspin lead screws
Specially developed for screw drives
Based upon wear-resistant igus® high-performance polymers
5 times longer service life with higher efficiency
Low-noise and vibration-free
Driven by powerful Nema 23 stepper motors on both sides of the Y-axis
Adjustable lead screw nuts minimize backlash
precision HIWIN® Ball Screws
Optionally available instead of standard igus® dryspin threaded lead screws
High ease of movement
Balls roll in an endless loop between the threaded screw and nut via the ball return system providing zero backlash
For maximum precision and accuracy
CNC Tools - Simply makes you more creative

Turn your STEPCRAFT M-Series CNC system from a milling machine into a

3D printer

,

a CNC laser

, a

plotter,

or a

tangential knife

. With over 12 various attachments, you can machine wood, aluminum, brass, cardboard, foil, cardboard, and more - all on once machine... in a variety of ways. All STEPCRAFT CNC tools can be easily and quickly installed on the M-Series machines, which not only makes you more creative but saves you money by not needing additional machines.
---
Milling Spindle
STEPCRAFT's powerful milling spindles give you the ability to create high precision workpieces from sheet material like MDF, plywood, Plexiglas®, sign substrates, wood, aluminum, carbon and much more.
Do you need help selecting a suitable CNC spindle for your needs? Please visit How to find the perfect Spindle Motor and you will find all the information on our HF Spindle, CNC Tool Changer, or the MM-1000 spindles.
oscillating Tangential Knife
Perfect cuts with the OTK, even with small fonts and contours! The Oscillating Tangential Knife cuts with high precision and rotates in the respective cutting direction. The OTK makes it possible to cut materials that you could never before on a CNC machine. Materials like leather, foam, rubber, cardboard, and more cut easily and cleanly. Think of all the possibilities that you can achieve.
3D Printer
The 3D Print Head opens up the world of additive manufacturing with your STEPCRAFT M-Series CNC system. Using a wide variety of plastic-based materials, you can build up parts with complex shapes that would otherwise be impossible to machine in a traditional CNC environment. The option component fan makes even small, pointed geometries possible.

CNC Laser
Engrave without contact! It is not necessary to clamp the workpiece when working with the DL445 3 Watt Laser Engraving Head. Depending on the material, you can even do smaller cutting jobs with the CNC Laser. Engrave projects with font engravings, halftone images, or puzzles with ease.
Drag Knife
The CNC Drag Knife precisely cuts a wide variety of materials like sheet vinyl to make self-adhering decals or cut paper and foils to make your M-Series CNC the perfect crafter's system.

Available in Ready-to-run or CNC Kit
The STEPCRAFT M-Series line of CNC systems will be sold as ready-to-run, allowing you to go from delivery to production in minutes. However, should you like the challenge of building a CNC system from a kit, we will also offer the machines in kit form which will offer you slight cost savings as well. Every STEPCRAFT M-Series CNC system is backed by a full 2-year warranty on parts - the best warranty in the business!
---
READY-TO-RUN CNC SYSTEM
Start right away with your CNC projects! The STEPCRAFT M-Series CNC systems will come to you fully ready-to-run and test from our facility in Torrington, Connecticut USA. Our highly experienced CNC experts will take the utmost care to ensure that your M-Series CNC is built and tested with the quality control that you would expect from a German-Engineered and American-Built machine. You simply have to unpack the machine, plug it in, add your attachments, and install the software - you can be up and cutting in less than an hour.
Benefits of the pre-assembled CNC Router::
Get started immediately
Save time
Perfectly assembled by STEPCRAFT technicians
CNC KIT
Assembling a CNC router is not rocket science and we do everything we can to make the process as simple as possible. We deliver all the necessary components securely packaged in a custom styrofoam core. With our assembly manual and video support, you can have your M-Series CNC up and running in just a few hours. By opting for a CNC Kit you can save money with the added benefit of knowing every detail on your CNC system.
Benefits of the DIY CNC kit:
Save money
Know every detail of your CNC router machine
Carry out maintenance work independently
Enjoy building
M-Series: Find the best CNC Router for your needs
Find the perfect CNC milling machine for your application. In the chart below we have put together all technical data for the M.500, M.700, and M.1000 for you. You can find out more information about the various milling machines in our shop.
Any questions? We are always happy to provide you with personal assistance. Simply send us an email at [email protected] or call us at 203-556-1856.
STEPCRAFT M.500
STEPCRAFT M.700
STEPCRAFT M.1000
Z Axis Clearance
5.21/8.07" (135/205 mm)
Repeatability
+/- 0.0009" (0.025 mm) (with optional HIWIN® ball screws: +/- 0.0005"/0.015 mm)

Programmable Resolution
0.0002" (0.00625 mm)
Backlash
0.0019 (0.05 mm) (with optional HIWIN® ball screws: ) 0.0012"/0.03 mm

Maximum Speed in Diagonal Travel X-Y
284 in/min (120 mm/s)
Spindle (Lead Screw)
igus® dryspin 12 x 5 mm (optional: HIWIN® ball screws 12 x 5 mm)
Linear Guide
Bosch Rexroth ball bearing guide
Drive
Stepper motors: Sanyo-Denki NEMA 23
Tool Holder
43 mm clamping diameter (Euro neck, optional smaller diameters)
Weight
61.7 lbs (28.0 kg)
77.1 lbs (35.0 kg)
92.3 lbs (42.0 kg)
Input Voltage
110-240V (comes standard for 110V/60h)
Output Voltage
24 - 30 V
Power Consumption
180 W
Interface
USB / Parallel (LPT1) / Network RJ-45